"A mascara duo with staying power. Lash Power Mascara vows to look pretty 24 hours, through rain, sweat, humidity, tears. NEW Bottom Lash Mascara is smudge-resistant and small by design-with a full 90-day supply. Both remove easily with warm water. "
I needed a new mascara since the old ones are kind of clumping and i hate clumpy finishes. Anyways, tried this dou
Clinique lash power mascara and bottom lash mascara
out last week and i
LOVE
it! It made my eyes wider and my lashes looks super natural, i know i had to purchased them.
I love the tube and the brush it makes applying them on my lashes simple since
the bigger brush tends to touch my eyeballs sometimes!
And when it says "removes easily w/ warm water" you have to follow what it says because i have tried MAC pro eye makeup remover and Lancome's eye makeup remover it didn't work... hmmm... maybe Clinique's eye makeup remover?? nah! just warm water easy as 1,2,3!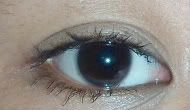 sorry for unplucked eyebrow and just had a breakout from the humidity today. ugh! i hate our weather.
thanks for reading~