hello everyone!
i've been looking for something pink ever since Mac+Ms. Nikki Minaj did a collabo w/ her album title "pink friday", also the name of her choice of lipstick. yes! i waited 'til midnight just for it to launch back again because the last sale of her limited lipstick is DEC. 17 and of course sold out like firecracker.
i had a backordered, since exciting me always wants to look at swatches on how it looks on medium/tan skin.. ugh! i was so disappointed! it reminded me so much of Lady Gaga Viva Glam lipstick and so it ends w/ a wee disappointment on my face when i called Mac's hotline to cancel my order.
anyways, that didn't stop me from getting me hot pink lippie! so i went to a nearest MAC counter (Micro. mall) and ask the S.A. what would match my skintone.. and voila!
Mac "chatterbox" bright red-pink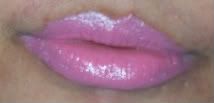 i really love how it looks on me..
but the S.A. also mentioned that every bright lipstick needs to tone down a bit that i needed a lip pencil to do that. (yeah! talk about aggressive selling! lol! j/k!)
so i ended up buying Mac lip pencil in "soar"...
Mac lip pencil in "soar" a pinkish/brown
here's the swatches next to each other.
and me wearing both on my lips.
'til next time girls!